NEW: Eco-friendly IRIEDAILY shopping bags made by Tütle
Once again we have good news about sustainability for you! Since recently you can get new environmentally-friendly shopping bags from the company Tütle while shopping in our brand stores in Berlin and Vienna as well as in the Outlet Berlin!
The TÜTLE, the probably most environmentally-friendly bag. It is entirely carbon-neutral and is made in Germany from 100% recycled, unbleached, water-resistant and compostable special paper. TÜTLE can be used as a shopping bag several times. After that it is ideal for collecting your green kitchen waste.
Sustainable bag
Our new shopping bag is a truly sustainable product from the company Tütle. We have always used paper instead of plastic bags, but the new bag is made from unbleached recycled paper. In addition, the bag is 100% compostable, which means that it vanishes at its "end of life" and leaves no waste behind.
Through reforestation of near-natural forests, Tütle compensates for the complete CO2 emissions that occur during production and transport. For every 1,000 bags sold, Tütle plants one tree together with Plant-for-the-Planet.
The new bag also encourages the collection of organic waste and thus also promotes waste separation.
The bag is printed with environmentally friendly water-based inks, without solvents or heavy metals. In addition, a maximum of 30% of the bag is printed to save ink, energy and costs.
And last but not least, the shopping bags are made in Germany. This avoids long transport routes and supports jobs in Germany.
2in1 bag
The special paper allows not only the use in rain but also the use as a garbage bag for organic waste. Unlike conventional paper bags, the bag does not soften when wet and therefore does not tear.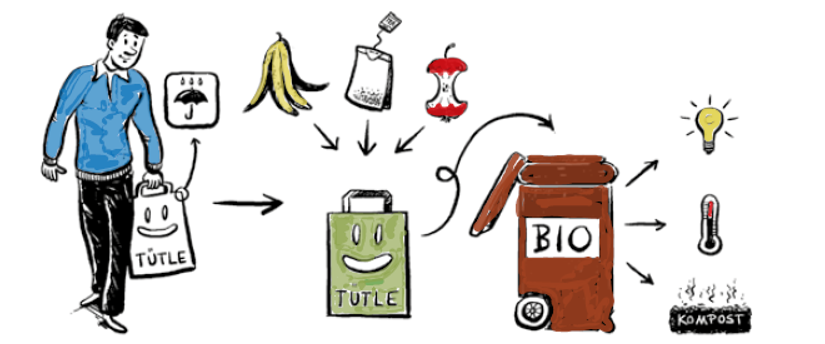 Wow, we are impressed! This is really a great sustainable product that we are happy to support. That's why the new IRIEDAILY shopping bags are now being produced by TÜTLE! 🙂